MR. ELVISSS "THE COMEDY FORTUNETELLER ACT" IS A MUST FOR
TRADE SHOWS . CONVENTIONS . PARTIES . WEDDINGS . ALL SPECIAL EVENTS
Call: 702-254-6092
There's Only One MR. ELVISSS
THE ULTIMATE

Accept No Substitutes !
****!!??!!**** "Y O U R.....F U T U R E.....I S....M Y.....B U S I N E S S ! ! !" ****!!??!!****
Shhh! Mr. Elvisss has spoken...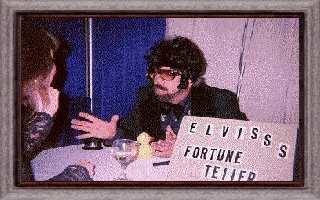 Would Mr. Elvisss lie to you? Just ask Mr. Duckie. He'll quack you up!
Live In Person ! See and Hear
The Original Las Vegas MR. ELVISSS Before It's Too Late!!
CALL HIM RIGHT NOW AT: 702-254-6092
TRUST MR. ELVISSS TO
P R E D I C T Y O U R F U T U R E !!!
By Reading His Love Song Deck of CARROT CARDS
By Tickling Your Palm's Fancy
By Giving You Your Own Lucky Number
By Assigning You A Rock and Roll Melodic Mantra
P L U S
You'll even receive MR. ELVISSS' magic relics from his Treasure Chest of Presssley Phenomenon
Five Minutes With MR. ELVISSS
And You Will Be Shakin' All Over
With Laughter
SO, TO RAISE THE DEAD AT YOUR NEXT CONVENTION, SPECIAL EVENT OR PARTY
CONTACT THE ORIGINAL LAS VEGAS MR. ELVISSS 702-254-6092
By Email at:
Email: onlylasvegas@yahoo.com
LAUGH WITH MR. ELVISSS: HE'S BACK AGAIN?!?
RAISE THE DEAD at your next convention, event or party!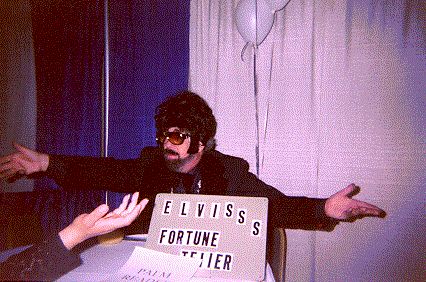 Rise up and laugh with Mr. Elvisss!
Exclusive Management: COOKSEYS OF LAS VEGAS
CALL (702)254-6092
Email: onlylasvegas@yahoo.com
LAS VEGAS' GREATEST ACTS waiting for you to book
FOR BOOKINGS 702-254-6092
OFFICIAL ACKNOWLEDGEMENT:
Personal Appearance Presentations are based on the fictious characters and storyline found in Bill and Janae Cooksey's classic BOOK:
"ELVISSS and PRISCILLA: Together Again In Vegas"
© copyright 1998
What? Back together again? Now?!?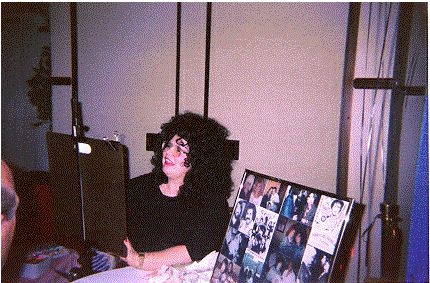 Priscilla makes caricatures. Is she supporting Mr. Elvisss now? Or is this a grave mistake?
Email: onlylasvegas@yahoo.com
RAISE THE DEAD WITH MR. ELVISSS:
BACK AGAIN?!?
Or Call: (702)254-6092
If you dare to have fun!